A memorial service will be held Saturday, September 10 at 1 p.m. at St. Paul's Episcopal Church, 4 Woodland Road in Montvale. A reception will follow at the Denbeaux home, 3 Werimus Road in Woodcliff Lake. Arrangements by Becker Funeral Home, 219 Kinderkamack Road, Westwood, N.J. 07675, (201) 664-0292.
In lieu of flowers, the family requests that donations be made to two organizations that Marcia proudly supported:
Pascack Mental Health Center , 114 Kinderkamack Road, Park Ridge, NJ 07655 (201) 391-1355 and
St. Paul's Episcopal Church, 4 Woodland Road, Montvale, NJ 07645 (201) 391-3181 in Montvale.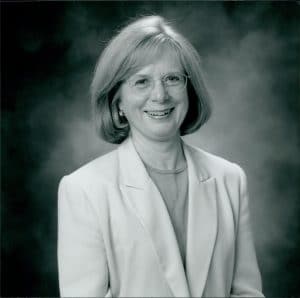 Obituary:
Marcia Wood Denbeaux, 72, a longtime resident of Woodcliff Lake, died Saturday, August 27 of cancer.
The daughter of Helen and Cyrus Wood, Marcia was born on March 12, 1944 in Boston and grew up outside Philadelphia. She met her future husband, Mark Denbeaux, at the College of Wooster in Ohio. They married on August 28, 1965, and moved to Woodcliff Lake in 1972.
Marcia completed her undergraduate studies at New York University and earned her law degree in 1983 from Rutgers University. She founded the law firm, Denbeaux & Denbeaux, in 1989 in Westwood, New Jersey, leading the firm with her son, Joshua. She primarily practiced matrimonial and family law, real estate law, elder law and estate planning and administration. The firm itself, however, has become well known for its work in mortgage foreclosure defense and against predatory lenders — work for which Marcia's support and consult was always available — because she knew how important home was for her clients.
Above all, Marcia viewed her role as an advocate – as an empowered social worker first, and as a litigator second. Not satisfied with just winning cases, she wanted to make her clients' lives better. And that she did.
Marcia was a member of the New Jersey Bar Association, the Bergen County Bar Association, and Women Lawyers in Bergen.
Marcia Denbeaux is remembered by many with appreciation for her work in the area of domestic violence advocacy. She was a member of the Matrimonial Early Settlement Panel in Bergen County for nearly two decades. She was recognized by the State of New Jersey General Assembly 37th Legislative District, the New Jersey Bergen County Board of Chosen Freeholders, Director of Human Services, and the Bergen County Executives for her 20 years of pro bono service for the Domestic Violence Legal Advocates Project, for which she served as a legal representative at restraining order hearings. She also received the Carol Dervitz Service to the Community Award for Dedicated Service to Victims of Domestic Violence in Bergen County (2000).
She also received awards for her leadership in other areas of community service, and was given both the Bergen County Bar Foundation Community Service Award (1996) and the NJAMHA Community Mental Health Leadership Award (1997).
Marcia also served on the Woodcliff Lake Borough Council since 2000, working across a wide spectrum of committees, including the Board of Health and Mental Health, Building and Grounds, the Library, Public Information, Ordinances and most recently, the Zoning Board. She also served on the Board of the Pascack Mental Health Center.
A redhead who stood just over 5 feet tall, Marcia was a petite powerhouse of love and kindness. She opened her arms to everyone and pulled them into her embrace. To many, she was a second mother.
Marcia is survived by her loving husband, Mark, and her family: Joshua and Sally Denbeaux of Hillsdale, Abigail and Nathan Kahl of Hillsdale, Gregory and Cathleen Denbeaux of Albany, New York, and Marcelle Higgs of Woodcliff Lake, her mother Helen Wood of Boulder, Colorado, her sisters Caroline Wood of Berkeley, California, Janet Wood Dillingham of Denver, Colorado, Beverly Thurber of Fort Collins, Colorado, her grandchildren Jacob, Luke, Isaac, Benjamin, Eleanor, Sarah, Katherine and Annah, and many adored nieces and nephews and dear friends.